Meet Halo! Our brand new product is ready to go and now available for drawing and ordering in Maars 4D. Are you ready to explore the full range of options that are available for Halo?
Learn all about it in our introduction video:
Can't get enough of it? Read all about Halo or download the brochure through our website.
Maars 4D office extension
As announced before; with the release of Halo we've also applied another major change.
The former Maars 4D extension is now separated into two separate extensions:
1. Maars 4D Walls contains our partitioning walls
(String2, Metaline, Horizon, lalinea, Styleline, Cubes, Living options)
2. Maars 4D Office contains our office and furniture related products
(Halo + M923.)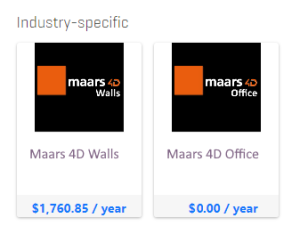 Both extensions are available on the Configura Marketplace and all existing users have received access to both extensions. The current M923. extension has been eliminated and replaced with the Maars 4D Office extension. The Maars 4D Office extension is free of charge so there are no additional costs involved. With this new set-up Maars is able to offer a future proof construction for new product developments. You can download the free Maars 4D office extension in the Configura marketplace.
Technical support
Due to this technical change you might have seen a notification in CET at the start-up that states 'Missing valid licenses' for Maars M923. You can simply click uninstall extensions and continue; Maars 4D Office will automatically download. In case you have any technical issues, please contact the Maars 4D team.